Artificially bred black fish, freshly processed, boneless and free of pulp, thinly sliced fish fillets. This fish fillet has white and tender meat, tender and smooth taste, rich in protein and water, rich in nutrients, easy to digest and absorb, suitable for all ages. Ways of eating include hot pot, soup, steaming, etc. This product has passed China's QS and US FDA food testing.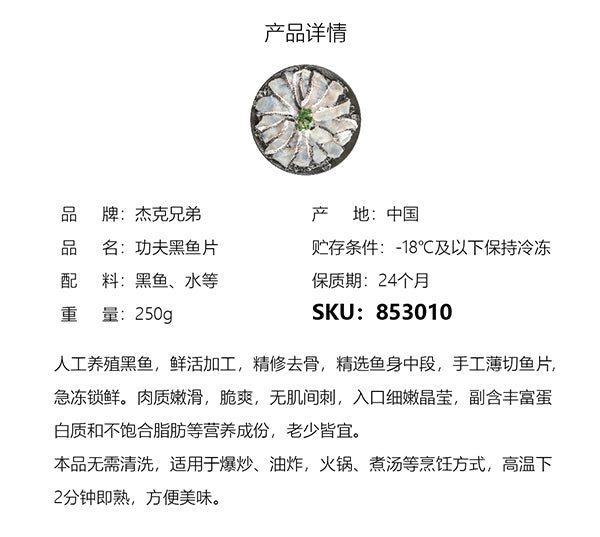 Product Details
Brand: Taste of China
Product Name: Frozen Kung Fu Snakehead Fish Fillets
Ingredients: Snakehead Fish, Water, etc.
Weight: 250g
Origin: China
Storage Condition: Keep Frozen below -18℃
Quality Guarantee Period: 24 Months
SKU:853010
Farm raised snakehead fish, boneless and thinly sliced, freshly processed and quick frozen.
The meat is shiny and white, rich in protein, no intermuscular spinesand and nutritious. It is easy to digest, extremely tender and delicious.         
This product does not need to be cleaned, it is suitable for stir-frying, frying, hot pot, soup, etc. It will be cooked in 2 minutes at high temperature, convenient and delicious.