The innovative cuisine perfectly matched with noodles includes mackerel head, dried noodles, pepper packets and sauces.
The first step is to unfreeze the fish head on a plate, spread the ingredients evenly over the surface of the fish's head, place in a steamer and steam over a large fire for 10 minutes.
The second step is to place the noodles in the pan and cook them, and pour them into the fish's head plate.
Fish white tender, noodles smooth, noodles light soup juice, delicious and attractive, one fish two eat, eat in convenience.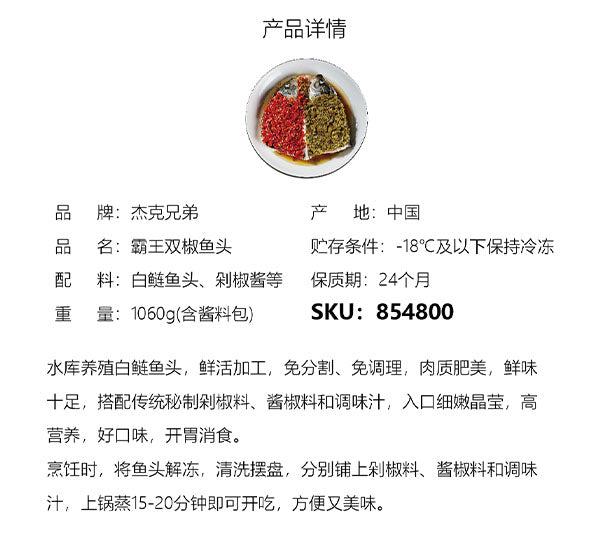 Product Details
Brand: Taste of China
Product Name: King of Silver Carp Fish Head with Pickled Pepper Sauce and Chili Sauce
Ingredients: Silver Carp Fish Head, Chopped Pepper Packet, etc.
Weight: 1060g(Contains Sauce Packet)
Origin: China
Storage Condition: Keep Frozen below -18℃
Quality Guarantee Period: 24 Months
SKU: 854800
An authentic dish from the Hunan cuisine. The fish head is divided into two halves and frozen with an ultra-low temperature quick freezing technique. The package contains a fish head, chopped pepper packet, sauce pepper packet and a seasoning packet.
To prepare, thaw the fish head, rinse, and place it on a plate. Spread the ingredients evenly on the fish head and steam for 20 minutes. The meat is white, shiny, tender and smooth. It is spicy and delicious.